Rockin' Chicago Blues, Funk, Soul, Old School R&B, New Orleans Zydeco Party Band
---
Jimbo Ross is the real deal, and his 4 CDs "Zydeco Boogaloo", "Hit The Ground Running",  "Drivin By The Blues" and "Steady Rollin' Man" shows why this highly respected and seasoned session player has stepped to the forefront. Singing with committed soulful passion, and playing a custom made electric 5 String Viola/Violin (he calls it his "guit-fiddle") the way most master guitarists play guitar, Jimbo blazes through electrifying improvisational leaps that will make a believer out of any skeptic.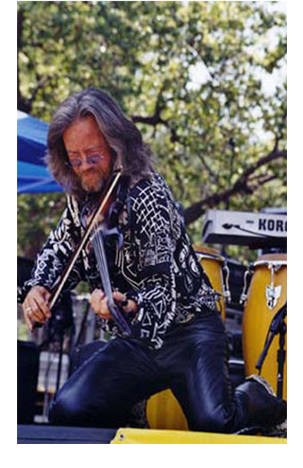 Performing with a band of stellar musicians, Jimbo and crew dish out a soulful gumbo of Chicago blues, old school R & B, with rockin' funk, soul and New Orleans Zydeco,  that will make you smack your lips and holler for more. All CDs are arranged and produced by Jimbo Ross.
JIMBO has spent years playing and recording with many of the greats in the industry as a session player and soloist as well as playing concerts and festivals worldwide. His credits can be found on every genre of American music and with some of the worlds most notable musical icons including: The Band "The Last Waltz", Ray Charles, James Brown, Bob Dylan, Aretha Franklin, Roy Orbison, Stevie Wonder, Bobby Blue Bland, Earth Wind & Fire, Don Ellis, Page & Plant Tour, American Idol Band. The list goes on & on...
​Jimbo is a true virtuoso string man who plays his axe with a bow, not a pick. His sound and style has distinguished him from the pack and is infused with a raw energy and powerful punch, beautifully complimented by his amazing technical dexterity and soulful prowess. Anyone who has seen this band perform live will attest to one serious party rocking on stage that is as good live as it is in the studio.
---
MO BEEKS – Keyboards
Mo Beeks from Chicago IL.
Keyboardist, writer, arranger, vocalist.
Influenced by organist Jimmy Smith, pianist Ahmad Jamal, Jeff Lorber, and George Duke.
Worked with Chaka Khan, Noel Pointer, Otis Clay, Tyrone Davis Bobby Rush Dr.John and a host of others.
---
Michael Sims 
Michael Sims began playing the guitar in high school,after hearing a record that Eric Clapton played on ."I couldn't believe what I was hearing ",states Sims ..."it was like nothing I had ever heard before". "It wasn't long before I started getting in to A lot of different styles of music ,Jazz,Reggae,R&B,Funk,and combinations of those core idioms" I Ended up in San Francisco in the early 80's And found myself playing in many different situations and that's where I guess my "career " in Music began .i wasn't into playing in Bands as much as I was interested in Playing with people ,sims recalls of those earlier years ,"I liked the challenge of doing different things ".thats probably what led Frank Childs to dub him "the Cameleon on the Guitar" Asside from releasing 2 Cds under his name "Wake me at Sunset"(JVC) And "Room with a Groove" (liquid 8) He recorded with many artists ,some of those Recording Credits include : George Benson N.W.A. The Temptations Brandy Paula Abdul Al Jarraeu Michelle Ice T Ice Cube Cypress Hill Eazy E. Randy Crawford Richard Elliot Patti Austin PeterWhite Forest for the Trees Tour/performing credits include Bill Summers (H.Hancock ,Headhunters) Nia Peoples Billy Valentine Boy George Diane Schuur Lucy Arnez Nina Hagen And others .. 
---
Bradley Austin Bobo
Bradley Austin Bobo – (Bassist/Composer/Arranger/Musical Director) pioneer and
specialist on the 6-string electric bass; an innovative lyrical bassist and "groovologist".
He is a native and one of the original "Cats" of Chicago with over 5 decades of
experience. His world-renowned talents have been featured both domestically and
internationally in live, televised and music recordings with some of the greatest
musicians of all time.
Early in his career he was greatly influenced by Curtis Mayfield and the Notations cowriting
and arranging 2 hits "I'm Still Here" and "A New Day". For over 10 years he was
mentored by jazz revolutionist Eddie Harris who nurtured and cultivated his freedom of
musical expression.
Touring and performing with The "Queen of Soul", Aretha Franklin, was a great
experience indeed but to perform for the first inaugural celebrations of President Bill
Clinton was the icing on the cake.
Linda Hopkins affectionately became known as "Mama" as Brad toured Europe with her
for over 10 years along with Maxine Weldon.
Not only did he have the pleasure of playing for Nina Simone but recently he was a
bass playing actor in the movie "Nina" portrayed by Zoe Saldana. He also appeared as
a regular actor in both hit TV series "Fame" and "Crime Story". Many of his original
compositions are performed and recorded worldwide, as well as his recent contributions
to the television shows "Ghost Whisperer" and "Parenthood". As an arranger and
conductor, he graced the stage of every major showroom in Las Vegas and Atlantic
City. Two other notable ladies of blues and jazz that he had the pleasure of working with
are Barbara Morrison and Ernestine Anderson. Other notable performers include Redd
Holloway, Natalie Cole, Lou Rawls, Nancy Wilson, The Joe Sample Quartet, Willie
Bobo, Della Reese, Ramsey Lewis, Billy Eckstine, Stanley Clarke, George Duke, The
Jackson Five, Donny Hathaway and many more.
---
Greg Alban:  Drums
Originally from Ohio Greg moved to Los Angeles to pursue a career in the music business and landed his first major job with The Miracles of Smokey Robinson & The Miracles. Various concerts included shows at The Forum and Disneyland. For many years Greg led the Band ICE in the Los Angeles area and that's where Patrick Moraz from The Moody Blues and Yes heard him. Greg then played drums on Patrick's solo album Time Code along side noted drummer Bill Bruford. Greg has done various concerts and or recordings with Mike Pinera from Iron Butterfly & Blues Image, Goldy McJohn of Steppenwolf, Denny Laine co founder of Wings with Paul McCartney and the Chambers Brothers. Recently Greg teamed up again with Patrick Moraz on a new CD called MAP, Moraz Alban Project. 
For the last 8 years Greg has played drums for Jimbo Ross and the Bodacious Band and recently played on Jimbo's latest two CD's, Hit The Ground Runnin and Zydeco Boogaloo.