Zydeco Boogaloo
Remix-Remastered
Jimbo Ross and the Bodacious Band

Hit The Ground Runnin'
Remix-Remastered
Jimbo Ross and the Bodacious Band

STEADY ROLLIN' MAN
Jimbo Ross

Jimbo Ross is the real deal, and his new CD "Steady Rollin' Man" shows why this highly respected and seasoned session player has stepped to the forefront. Singing with committed soulful passion, and playing a custom made electric 5 String Viola/Violin (he calls it his "guit-fiddle") the way most master guitarists play guitar, Jimbo blazes through electrifying improvisational leaps that will make a believer out of any skeptic.
Performing with a band of stellar musicians, Jimbo and crew dish out a soulful gumbo of Chicago blues, old school R & B, with rockin' funk and soul that will make you smack your lips and holler for more. Arranged and produced by Jimbo Ross, "Steady Rollin' Man" spins hand picked classics like "I Put A Spell On You", "The Hunter", and "My Babe" with flavorful original compositions as sophisticated as Jimbo's virtuosity.
Jimbo has spent years playing and recording with many of the greats in the industry as a session player and soloist as well as playing concerts and festivals worldwide. His credits can be found on every genre of American music and with some of the worlds most notable musical icons including: The Band "The Last Waltz", Ray Charles, James Brown, Bob Dylan, Aretha Franklin, Roy Orbison, Stevie Wonder, Bobby Blue Bland, Earth Wind & Fire, Don Ellis, Page & Plant Tour, American Idol Band... and the list goes on.
Jimbo is a true virtuoso string man who plays his axe with a bow, not a pick. His sound and style has distinguished him from the pack and is infused with a raw energy and powerful punch, beautifully complimented by his amazing technical dexterity and soulful prowess. Anyone who has seen this band perform live will attest to one serious party rocking on stage that is as good live as it is in the studio.
So kick back, relax, or put on your dancing shoes... but most of all enjoy, Jimbo Ross and his new CD, "Steady Rollin' Man".

All Tracks Produced and Arranged by Jimbo Ross
Recorded and Mixed by Dino Maddallone
Mastered by Gordon Dziedziak
All Photos by Nika Ross
CD Cover Painting by Lennie Jones
CD Layout and Design by Raybird
Musicians
Jimbo Ross - Lead Vocals & 5 String Electric Viola
Jimmy Scott - Electric Guitar
Wayne Linsey - Electric Piano, Rhodes, Organ, Clavinet
Steve Pandis - Electric Bass
Teddy Campbell - Drums
Also Featuring...
Dino Maddalone - Percusion, tracks 5-6
Sharlotte Gibson - Backing Vocals, racks 1, 2, 3, 8 & 10
Aja Kim - Backing Vocals, track 8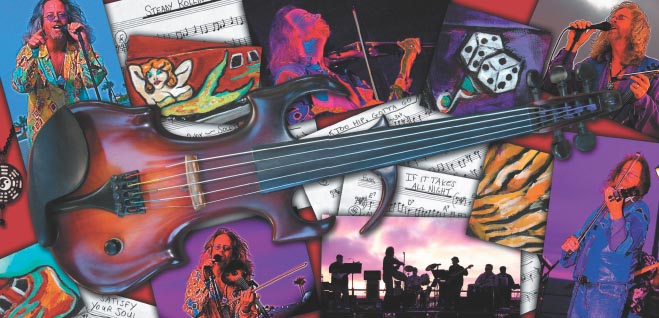 Drivin' By The Blues
Jimbo Ross

He is a man driven by the blues. He eats the blues for breakfast. He dreams the blues at night. And when he speaks, he speaks the language of the blues. But what sets Jimbo Ross apart from other seasoned bluesmen is that he speaks this language not through the usual tools of the blues, such as a harmonica or guitar. He speaks the blues on the viola. But before you make up your mind about whether a viola player can be a true messenger of the blues, listen to his music. Because Jimbo Ross is living proof that, as Willie Dixon famously explained, the blues speaks in many languages and in many voices. Though Jimbo uses an instrument that's more frequently linked with classical European music, the music that he plays on it is the down-home bedrock classical music of America, a music that connects the Delta blues from Texas to New Orleans with the industrial urban blues of Chicago, and the rhythmic blues of Detroit and Philly and beyond. It's the true essence of R&B - rhythm and blues - and when you hear Jimbo play and sing it, you know it's coming from his soul.
Some people think the blues is a down thing. But to quote Willie Dixon again, "All blues are happy blues." Willie would be happy to hear Jimbo Ross plays the blues, because when Jimbo plays, people listen. He's the embodiment of the happy blues - even in the deepest and darkest of songs, he finds the shining silver lining in the dark clouds, the joy inside the blues.
Jimbo spent a lot of time playing guitar growing up, and it's in his unprecedented translation of guitar style blues to the viola that he has found a sound entirely his own. A virtuoso violist who has long been in great demand as a studio musician for his uncanny chameleonic ability to adapt the viola to any musical genre, he's played everything from blues to gospel, swing to salsa , Baroque to Bulgarian, be-bop to hip-hop, Turkish to techno, and everywhere in-between. He's played on classic albums such as The Band's The Last Waltz and with legendary artists ranging from Ray Charles, Roy Orbison, Aretha Franklin, Etta James, and Jimmy Scott to Frank Sinatra, Barbara Streisand, Rod Stewart, and Bob Dylan. He's played in orchestras and in rock, jazz, and fusion bands, and for years co-led the great band Swingstreet.
But regardless of what kind of music he plays, the blues is always the backbone of his work, the dynamic that propels him through all forms of music. He's a powerful singer, belting out songs new and old with a voice that is one part-Chicago, one part-New Orleans, and with a dash of cayenne and a shot of whiskey tossed in. Being one of the most sought after musicians in Hollywood, he has worked with many of the greats, and so when it came time to make this album, he enlisted their support. Besides showcasing Jimbo's own singing and playing, the album also features the fine musicianship of many seasoned pros, each of whom have extensive credentials of their own. Recorded live, the album captures the live energy of great musicians playing off of each other " Alan Steinberger cooks up a lot of heat on the keyboards, while Tim Emmons provides wonderfully funky basslines throughout. Two fine guitarists, John Goux and Miles Joseph, trade leads with Jimbo in an interchange so effortlessly organic that it's often hard to hear where the viola ends and the guitar begins. And the entire album is driven by the combined power of Willie Ornelas on drums and Al Salas on percussion.
Even Van Dyke Parks, one of America's most iconoclastic musical geniuses, shows up here, collaborating with Jimbo on the string arrangement to the haunting Leon Russell ballad "Help Me Through The Day," which Jimbo dedicates, on this album and in concert, to his wife Nika.
If you had any doubts as to whether an authentic blues groove can be created with a viola, that doubt flies out the window instantly as the opening song, Jimbo's own "Driven By The Blues" charges out of the gate, and kickstarts this album into high-gear from the first measure of that ripping opening riff. Jimbo flies on the viola, he burns, he shreds, he does some things guitarists usually do and others guitarists only dream about. When he sings about being "possessed by the blues and there ain't no cure around," there's no question that he's singing the truth. He creates full horn sections by overdubbing many tracks of his own viola, as in "Walkin' By Myself," and then plays a burning solo over the top of it. This is happy, feel-good music " if you were a skeptic before hearing this, you'll soon be a believer. A believer in the power of the blues.
There's much here to believe in " besides Jimbo's own classic "Driven By The Blues" there's also a great mix of old classics such as Junior Wells' "Messin' With the Kid," Jimmy Reed's "You Don't Have To Go," "It Hurts Me Too" by Elmore James, "I'm Tore Down" by Freddie King, Willie Dixon's own "You Can't Judge A Book" and much more. It's like getting a great driving tour of the old and new neighborhoods of the blues, driven by a man who has been driven by the blues his whole life. Take a blues ride with Jimbo Ross. He knows exactly where to go and how to get you there. It's a ride you'll never forget.
Paul Zollo, Songwriter/Author
Produced and Arranged by Jimbo Ross
Recorded and Mixed at Dino M III Recording Facility, Torrance, CA.
Engineered by Dino Maddalone. Mixed by Jimbo Ross & Dino Maddalone. 
"Help Me Through The Day" String Arrangement by Van Dyke Parks & Jimbo Ross recorded at O'Henry Studios, Burbank, CA, Bret Swain - Engineer. 
Mastered by Eddy Schreyer, at Oasis Mastering.
CD Album Cover Photo by Heather Harris.
Inside Photos by Dana Ross.
Drawing by Jeff Maddalone.
Musicians
Jimbo Ross/All Vocals & Electric Viola
John Goux/Guitars (Tracks 1, 4 thru 6, 8, 9)
Alan Steinberger/Keyboards (Tracks 2 thru 6, 10 , 11)
Tim Emmons/Bass - All Tracks
Willie Ornelas/Drums - All Tracks
Also Featuring...
Miles Joseph/Guitars (Tracks 2, 3, 7, 11)
Mike Whittaker/Keyboards (Tracks 1, 9)
Al Salas/Percussion
Dino Maddalone/Cowbell & Handclaps
Debbie D & Dana Perry/BG Vocals
LaVonia Shepard/BG Vocals
Special Thanks:
To all the musicians for their inspired playing. 
Hank Sanicola at O'Henry Studios.
Ray Dougela of Raybird Graphics for his design and artistry, 
and Dino Maddalone for his invaluable help in driving this home.